Written on September 11, 2015 at 1:33 pm, by Eric Cressey
In light of this week's sale on Bobby Tewksbary's great resource, Elite Swing Mechanics, I've been thinking about the characteristics of elite hitters. Just as Bobby breaks down swing mechanics to identify growth areas, I'm always looking to find physical limitations that might interfere with an athlete's ability to best "acquire" the swing mechanics guys like Bobby are seeking. Here are six physical attributes I've noticed in most elite hitters.
1. Sufficient Hip Mobility
You don't have to look any further than the rise in hip injuries over the past decade to recognize just how aggressive the hip rotation is during the baseball swing. In particular, it's essential for hitters to have sufficient hip internal rotation and extension.
Unfortunately, these ranges of motion are usually the first to go in the dysfunctional lumbopelvic (hip/lower back) postural presentations we see. As the pelvis dumps forward into anterior tilt, it blocks off internal rotation - and the athlete will preferentially extend through the lower back instead of the hip.
This leads to not only limited hip function, but also an increased risk of injury. The athlete may develop bony overgrowth (femoroacetabular impingement; read more here) on the head of the femur or the hip socket, a torn labrum, a sports hernia, or a number of other hip issues. There may also be extension-based lower back pain, including stress fractures and disc injuries.
This loss in hip motion is generally related to point #2...
2. Sufficient Core Control
Many of the hip mobility restrictions we see in these athletes aren't just because muscles are actually short, or bony blocks have developed to restrict range of motion. Rather, they may be in place because the athlete's core control is so out-of-whack that alignment issues actually limit range of motion. Imagine driving a car that's out of alignment; turning to one side will ultimately wind up being more difficult.
The good news about this scenario is that it's often possible to get quick changes in an athlete's hip mobility just by modifying posture, incorporating positional breathing, and doing a bit of activation work. I've seen athletes gain more than 30 degrees of hip internal rotation in a matter of 30 seconds without manual therapy or stretching, so adding some core control in the right places can definitely be a powerful thing.
Remember, the research clearly demonstrates that the core works to transfer - not develop - force during the baseball swing. Its job is to take the force developed in the lower extremity and make sure that it is delivered to the upper extremity and, ultimately, the bat. This function should be reflected in the exercise selection we use, as we gravitate toward rotational medicine ball variations and chops/lifts rather than sit-ups, crunches, and side bends.
3. Sufficient Thoracic (Upper Back) Mobility
One of the key points Bobby made in his article earlier this week was that Pujols - like all elite hitters - gets his hips moving forward while his hands are still held back and up (and actually moving further back and up).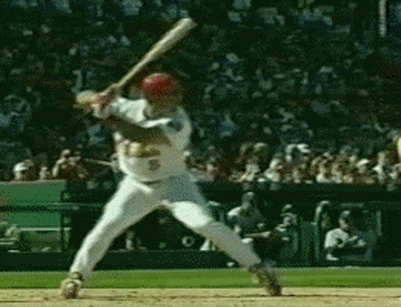 To do this, you need three things. We've covered the first two: hip mobility and core stability. However, you also need sufficient mobility through your upper back to allow this "separation" to occur. Even if the hip and core components are ideal, if the upper back isn't sufficiently mobile, the hands can't stay back to allow a) force transfer without "energy leaks" and b) the right timing for this transfer. As Bobby also noted, if the hands can't stay back long enough, the hitter has less time to see and react/adjust to the pitch that's thrown. In short, a physical limitation can quickly become a mechanical issue.
I should note that while thoracic rotation (transverse plane) is predominantly what we're seeking, you can't have sufficient rotation if you're stuck in a rounded upper back posture (flexion/sagittal plane). If you look like this, you'll need to get your extension back to help unlock the rotation you seek.
4. The Ability to Hip Hinge
This point really goes hand-in-hand with #1 from above, but I think it's important to distinguish the hip hinge (hip flexion with a neutral spine) as pre-loading, whereas the extension and internal rotation that takes place is actually unloading. In other words, the former stores the elastic energy we need, while the latter releases it over a sufficient range of motion.
Candidly, I'm shocked at how many young athletes have lost the ability to hip hinge correctly. You'll see it quite a bit in more advanced hitters as well, and they're usually the higher level guys who have hip and lower back problems. If you can't effectively pre-load your hips, you'll have to go elsewhere to get your power - or you just won't create it.
A detailed review of what a good hip hinge is and how to train for it could be (and is) a full-day seminar, but here is a good summary article from Dean Somerset: Training the Hip Hinge. Basically, this is as much a stability limitation and patterning problem as it is an actual flexibility deficit. Put these three components together, and you have your "mobility" potential.
Without getting too sidetracked, here's a quick rule with respect to the hip hinge: players need to be able to touch their toes without a huge knee bend (greater than 30 degrees) or hyperextension of the knees like this:
Sure, we need to consider how much posterior hip shift their is, whether they can reverse the lumbar curve, and whether they return from the toe touch with predominantly hip or lower back motion, but I think the quick screening rule from above is a good place to start. 
5. Lower Body Strength/Power
You don't have to be an elite powerlifter or Olympic lifter to hit home runs. However, you do need enough strength and - just as importantly - the ability to display that force quickly.
On the strength side, I seriously doubt you'll find many hitters in the big leagues who aren't capable of deadlifting at least 1.5 times their body weight, and if you do find some, they're probably guys who have been around for quite some time and gotten much more efficient with their patterning to use every bit of force they have in the tank. Or, they're just carrying too much body fat.
On the power side, it's not good enough to just be a weight room rockstar. It's also important to be able to take that strength and apply it quickly in more sport-specific contexts with drills like rotational medicine ball throws, sprinting, jumping and, of course, hitting and throwing. Once you've got the foundation of strength, your power training can really take off - and that includes your swing mechanics. Until you're able to put more force into the ground, it's going to be difficult to generate more bat speed unless you have glaring deficiencies in your swing mechanics that can be cleaned up. 
6. Great Sports Vision
You can't hit what you can't see - and elite hitters almost always have elite vision. Some of this is outside your control, but I always encourage all our baseball guys to get thorough yearly eye exams. I'm a bit biased because my wife is  an optometrist, but I've seen players for whom vision corrections with contact lenses and glasses has been a complete game-changer.
Wrap-up
This is certainly not an exhaustive list of physical attributes of high-level hitters, but it's a good start. Building on this point, as examples, you'll notice I didn't say "tremendous forearm strength" or "a huge bench press." Some guys might have these "proficiencies," but that doesn't mean they're absolutely essential for high-level hitting. Many hitters might develop appreciable forearm strength from the act of hitting over many years, but that doesn't mean they had to specifically train it to make that advancement. And, on the bench press front, there may be guys who've trained the bench press heavily, but never recognized that it might not have had much of an impact on their hitting performance. This is why we have to look at the big picture and see what ALL elite hitters are doing to be successful.
To this end, I'd strongly encourage you to check out Bobby's fantastic resource, Elite Swing Mechanics. He was kind enough to put it on sale for my readers for this week (ending tonight at midnight), and I guarantee that you'll really benefit from checking it out. 
Sign-up Today for our FREE Baseball Newsletter and Receive Instant Access to a 47-minute Presentation from Eric Cressey on Individualizing the Management of Overhead Athletes!
---
Written on September 7, 2015 at 2:54 am, by Eric Cressey
Today, I've got a guest post from Bobby Tewksbary. Bobby has quickly established himself as one of the premier hitting instructors to professional and amateur hitters alike over the past few years. You might also recognize him as the guy who threw to Josh Donaldson at this year's Home Run Derby. I enjoy Bobby's stuff, and I'm sure you will, too! Be sure to check out his Elite Swing Mechanics E-Book, if you haven't already; it's fantastic stuff.
A lot of folks heard my name for the first time after this year's Home Run Derby, where I pitched to Josh Donaldson. However, I never would have had that opportunity if I hadn't seen this swing of Albert Pujols in 2009. That was when I first saw Pujols doing something with his swing mechanics that most people don't realize.
Even if you have studied the swing, you might be shocked or surprised at what you can see Pujols doing. It defies so much of what passes as "common wisdom" among hitters.
Over the last 6+ years, I've studied tens of thousands of hours of hitting video to better understand the swing and what makes Pujols' (and all the other all-time greats) so special. I'm excited to share some of the most important things I've learned so you can improve your timing, power and batting average!
Albert Pujols' Swing Mechanics

What exactly are we talking about? We are talking about swing mechanics and the movement Pujols uses to create consistent timing while being able to hit for power and for average.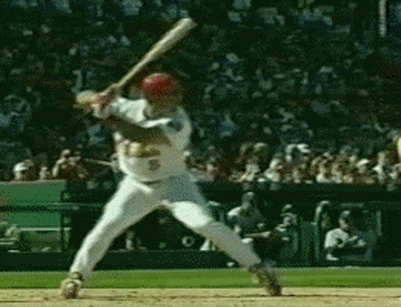 When Pujols' rear knee and hips are turning forward, his hands aren't going down… they are going up and back. Watch this clip a few times - study the hands, the hips opening, the rear knee.
This is very different than what I thought was right and it is very different than what most hitters are taught! Conventional instructions call for things like "take your hands/knob to the ball", "stay inside the ball", "stay on top of the ball." In the big picture, these aren't completely bad things but they are very incomplete.
I still remember how I felt when studying the swing the first time: How I swung the bat was very different than how Pujols and other great hitters swing. If Pujols was doing something different then me, then I was definitely the one doing it wrong!
A Deeper Look at Albert Pujols' Swing Mechanics

The really special part of Albert Pujols swing is revealed in his barrel path. This is the secret behind his elite mechanics and what creates his good timing and his ability to hit for power and average.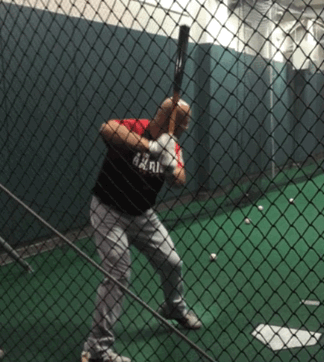 Before, we saw how Pujols' hands were working up and back while the hips were opening. Now we can see how his barrel is moving! When his hips are opening, his barrel is not moving toward the ball; rather, it is working deeper and flatter.
This is where Pujols is creating his timing for his swing. Instead of the barrel working TOWARD the ball, he is creating time by getting his barrel into the zone deeper. And because his barrel is working back and not forward, he is able to stop his swing if the pitch is not a strike. This gives him very adjustable timing.
Another key component to this movement is how short and quick his swing becomes. The lower body has already opened/cleared and the barrel already has speed. The swing's finish is very short, quick and explosive.
Look at how fast this is - and how hard it is to see this movement in "real time!"
Hitting for Power and Average
We know Pujols' barrel moves deeper to start the swing, but how does this help him hit for both power and average?
The barrel is working onto the plane of the pitch earlier so the barrel stays in the zone for a very long time. This gives a very "long" zone in which he can hit the ball hard. Plus, when his barrel is going back, his lower body opening. This is creating an ideal swing sequence where the lower body's turn happens first which transfers energy "up the chain" and all the way to the barrel.
In addition, the barrel is "inside" the ball later and works through the zone with great swing direction. The barrel gets behind and through the ball without having to guide or steer the bat. If you play golf, think of this as getting a good swing path and driving through the ball and not cutting or hooking!
Here is one more look:
The swing is built to hit the ball with power to all fields!
Teaching These Swing Mechanics to Other Hitters
Most hitters are taught a swing to either "push" the bat to the ball (linear hitting) or to pull/rotate the bat to the ball (rotational hitting.) Both of these swing styles create issues for hitters with their timing. Push/linear hitters tend to make more contact but lack power. Pull/rotational hitters will have more power but hit for lower average.
I call the pattern Albert Pujols uses "Elite Swing Mechanics." I use the word "Elite" because it is the swing the all-time great hitters use and continue to use. I've worked with Josh Donaldson, Chris Colabello (Toronto Blue Jays) and Cressey Sports Performance Client A.J. Pollock (Arizona Diamondbacks) - and hundreds of youth, high school and college players others on developing these Elite Swing Mechanics.
The first and most critical step is to developing better swing mechanics is to understand swing mechanics. The more you understand the swing, the more deliberate you can be about how you work. And when you improve your swing, you increase your abilities and performance as a hitter!
One thing that I really try to communicate to people is that I've never tried to invent anything with the swing. I've studied tens of thousands of hours of video to try to understand what the best hitters in the history of the game have done. The game tells showns us what works and the all-time great hitters all use the same swing mechanics. Whether I'm working with a pro guy or a younger hitter, the goal is the same: I try to help hitters understand the swing. If a hitter doesn't understand the swing, then they are taking a huge risk with this very important skill. When a hitter understands how their swing works, it causes a few really good things to happen.
Increased Accountability - The hitter will take ownership of their swings in their training and games.
Learn from Failure Faster - Hitters will diagnose their failure faster and be able to make adjustments faster.
Trust in the Process - Hitters will trust their long-term plan. Go to work each day knowing you are building in the right direction.
The single most common comment I hear from professional hitters is, "Why didn't anybody tell me this sooner?" Technology has made is possible to gather video and study hitters in ways that haven't been possible before. The game is advancing and pitchers are currently WAY ahead of hitters. The first step toward building this knowledge is my Elite Swing Mechanics E-Book + Instructional Videos. I am excited to offer to Eric's followers at the special discounted price of $29.99 through the end of this week.
About my Elite Swing Mechanics Book + Instructional Videos
I wrote my book to help share what I've learned about the swing. This book isn't a traditional book though. I've tried to create a product that takes advantage of technology to help reach hitters with all learning styles. This is what makes up my book:
120+ page Elite Swing Mechanics PDF eBook
Video instruction of keys points and drills with over 2 hours of total video instruction
Audio version of book so you can listen to the book on your iPod/iTunes
14-day follow up email program walking you through the information with videos and articles
Lifetime Updates*
Bonus Articles & Exclusive Offers
Money Back Guarantee - If you don't learn from this product, I'll give you a full refund.
Don't Take My Word For It
"I was introduced to Tewks' stuff two years ago and what he teaches has helped me progress as a hitter. I look at the swing with a completely different perspective now. I wish I knew the TRUTH in high school!" - A.J. Pollock
"Want to understand your swing? Bobby was one of the first guys who helped me understand the true mechanics! I 100% believe in his philosophy and I know it's the TRUTH!" - Josh Donaldson

"The information was a game changer. What Bobby showed me taught me to do things I couldn't do before. I learned how to swing better and it enhanced everything about me as a hitter." - Chris Colabello
*The lifetime updates is a big reason why this is a digital product. I constantly perform research and learn more ways to communicate the movements of the swing. When I find new details or new wording that helps hitters, a digital product allows me to issue an update in ways that a printed book or physical DVD cannot. This is all about helping hitters, so this digital product format allows me to do that best.
Click here to learn more and purchase at this week's sale price!
If you have any questions, you can reach me at bobby@tewkshitting.com.
Sign-up Today for our FREE Newsletter and receive a four-part video series on how to deadlift!
---
Written on July 30, 2015 at 6:27 am, by Eric Cressey
With only one day to spare, here's the July edition of "Random Thoughts on Sports Performance Training."
1. One of the things I really heavily emphasize to our staff is that we should always be assessing. Obviously, during an initial assessment, we're going to review injury history, evaluate movement quality, and work to build rapport with the new client. However, I'm a huge believer that the initial evaluation should also include an actual training component. This is for three reasons:
a. I want the client to feel like they've actually started working toward their goals, as opposed to just hearing about all the things they need to work on.
b. We have many clients who come from out of town for short-term consultations, so we need to make the most of every training session.
c. I want to actually get a feel for what their work capacity is before I actually write a program for them.
You can measure resting heart rate, ask about training history, and take a whole bunch of other indirect measures of work capacity, but there is no substitute for seeing it first-hand. I've seen pro athletes in the early off-season who are completely deconditioned and struggle to get through incredibly abbreviated, basic sessions with lengthy rest periods. You really have to be able to take a step back and separate yourself from what you are expecting to see on the work capacity front so that you can observe what's really going on. If they are too deconditioned to put in the work you need to optimally effect positive changes with their performance, then your programming better reflect it.
2. I often talk with my baseball guys about how every throwing session either makes you tighter or looser. This sadly hasn't been recognized very well when it comes to individualizing recovery modalities to players' arms.
If you've got a lot of joint hypermobility (collagen deficiency), you'll get looser. If you're a naturally "tight" individual, you'll get tighter and tighter.
If you're loose-jointed, you'll respond well to low-level stabilization drills that essentially "remind" your nervous system of how to create good stiffness and optimal movement at joints (particularly the shoulder).
These looser-jointed athletes also seem to respond better to mild compression (arm sleeves, not aggressive compression). Even a cut-off tube sock works just fine.
Conversely, "tighter" throwers will generally do better with manual therapy and mobility drills. Static stretching after throwing is definitely appropriate, whereas you can skip it with the hypermobile crowd.
Regardless, these two "camps" share a lot in common. They both need great nutrition and hydration and optimal sleep quality and quantity, and they respond well to foam rolling and positional breathing drills. And, keep in mind that most pitchers don't fall to one extreme; they're usually somewhere in the middle, and can therefore benefit from a bit of everything. This is why recovery from throwing is an individualized topic; we have our theories on what works, but always have to get feedback from the athletes on what has yielded the best results for them.
3. Building on point #2, I never quite understood why some pitchers insist on doing their band work after starting pitching outings. It doesn't match up with either the "loose" or "tight" scenarios from my previous point, as fatigue changes everything. Fatigue is the enemy of motor learning - or re-learning, in this case. In my opinion, post-game band work is pretty silly.
If you're tight, get right to your manual therapy and mobility/stretching work. If you're loose, throw on a compressive arm sleeve and do your low-key band work the next day as part of that "stabilization re-education" I outlined earlier.
4. Good coaching isn't just about making clients and athletes move well; it's about doing so efficiently.
To me, there is a hierarchy in play in the coaching progression. First, a coach must know what an exercise is, and then understand how to coach that exercise. The third step is to learn to assess so that one knows when to include the exercise in a program. This last step is key, because to do an accurate assessment, one must understand what quality movement really looks like, how relative stiffness impacts things, and which compensation patterns an individual might resort to during that exercise. If you appreciate and follow this hierarchy, you continue to refine your ability to make technique perfect - but you can do so far more efficiently. 
Once you get to this point, it's all about coaching as many individuals as possible so that you have a giant sample size of incorrect patterns from which to draw. How do hypermobile folks compensate differently than those who don't have as much laxity? Why do individuals with long femurs struggle with an exercise, while those with "normal" anthropometry do just fine? Eventually, answering questions like these becomes second-nature, and that's where the efficient coaching happens, particularly when you learn about internal/external focus cues, and kinesthetic/visual/auditory learning styles.
5. Earlier this week, we had a 6-7 athlete doing stability ball rollouts - and the exercise was (unsurprisingly) pretty challenging for him. The combination of long arms and a long spine put him at a very mechanically disadvantageous position. It got me to thinking about how everyone seems to think about how tall guys have it tough when they squat and deadlift, but nobody seems to carry this thinking over to most core exercises. Imagine being seven-feet tall and trying to perform a stir the pot, where the forearms are a great distance from the feet:
Even on cable chops and lifts, the center of mass on a tall athlete is considerably further up from the base of support. The external loading that can be used is going to have to be lower if you don't want compensations to kick in.
One thing that can actually help a bit in this regard is athletes putting muscle mass on in the lower half of the body. It has a "grounding" effect as the center of mass is shifted slightly lower on the body.
Regardless, though, core stability exercises may need to be modified for taller athletes, especially initially. This might be in terms of regressing (e.g., going to prone bridges instead of rollouts), limiting range of motion (e.g., shortening the excursion on a rollout), or reducing the external loading relative to your "typical" expectations of where an athlete can start. 
6. In case you missed it, Mike Reinold and I have put our entire Functional Stability Training series on sale for 20% off this week. These resources have been our most popular collaborations, and we have modules covering our approach to rehab and training of the upper body, lower body, and core. It's essentially a snapshot of how we think when designing our programs. You can learn more and purchase HERE. The discount will automatically be applied at checkout.
Sign-up Today for our FREE Newsletter and receive a four-part video series on how to deadlift!
---
Written on July 21, 2015 at 6:28 am, by Eric Cressey
It's been a while since I posted a new "Exercise of the Week" feature, but to atone for the wait, I've got a great one for you. I actually came up with this one myself while brainstorming a bit during my own warm-up a few weeks ago.
Serratus anterior is an incredibly important muscle for shoulder health, as it is really the big player in making sure there is a "rotation" component to scapular upward rotation (watch this video first if you need more information on that). Long story short, as you can tell from the picture below that depicts its positioning and line of pull, serratus anterior is hugely important for healthy shoulder function. This is particularly true in movement patterns involving reaching, whether it's out in front or overhead.
Loss of serratus anterior function is incredibly common in those with shoulder pathology, but we also see it really commonly in those who are pain-free but don't move well. To that end, we like to include specific serratus anterior targeted drills in our warm-ups and as low-key "fillers" between heavier compound lifts during our training sessions.
The research has demonstrated that serratus anterior recruitment is highest when you have more than 90 degrees of shoulder flexion, and this assertion really recognizes that this muscle does far more than just protract the shoulder blade; it is a key upward rotator. As such, we train it to assist that function:
Coaching Cues
1. Make sure the athlete is not in a heavily extended (arched lower back) posture, and don't allow forward head posture.
2. If range of motion allows, reach behind the back with the opposite hand to monitor the position of the inferomedial (inside/bottom) border of the scapula. It should stay "snug" to the rib cage, not wing off.
3. Think of "wrapping" the scapula to the armpit as the arm goes up. I'll usually manually guide the shoulder blade with my hands as I'm first instructing this. You can usually see if the movement is sufficient through an athlete's shirt.
4. Actively push the medicine ball into the wall the entire time. In addition to training the protraction function of serratus anterior, you'll also likely get some reflexive rotator cuff recruitment. This is a 4-pound med ball, but you can really work anywhere from one pound to six pounds.  
5. The athlete should only feel this along the scapula near arm pit (reference the anatomy picture above for a frame of reference). There should be no anterior shoulder discomfort. If there is, it's a sign of one of two things:
a. Pectoralis minor taking over to protract with anterior scapular tilt
b. Excessive movement of the humerus (upper arm) without sufficient scapular movement
5. Don't force upward range of motion. The arm really shouldn't get above 140-150 degrees, and most people don't even need to go this far. Note that the medicine ball doesn't say in the hand the entire time; it rolls to the elbow. This is a great ROM "check" that tells you how far up you should go.
6. Control things down slowly; don't yank to the bottom.
7. For added benefit, you can add a full exhale at the top of each rep to help solidify the pattern.
I'll generally program this for sets of 6-8 reps on each side. 
If you're looking for some more serratus anterior programming options and detailed coaching cues, check out this video:
 Sign-up Today for our FREE Newsletter and receive a four-part video series on how to deadlift!
---
Written on July 8, 2015 at 11:24 am, by Eric Cressey
You might be surprised to know that I'm an "outsider" to baseball. I played up through 8th grade, but was actually a much better tennis player. Since they were both spring sports, the decision to go the tennis route was effectively made for me even though I loved baseball as both a player and fan.
Years later, in my first three years of strength and conditioning during graduate school at the University of Connecticut, I actually spent most of my time working with basketball and soccer players. I still loved baseball, but hadn't really been exposed to it "from the inside."
It just so happened that when I went to the private sector after graduate school, some of my first clients were high school baseball players. They had some good results and my phone started ringing off the hook. Now, almost ten years later, Cressey Sports Performance has facilities in both FL and MA, and we work with players from all 30 Major League Baseball organizations. 
I'd argue that if I had been an "insider" from the get-go, we never would have been able to differentiate ourselves so quickly. Why? As an outsider, I had to do a lot of listening and observing. I had to ask a lot of questions. And, I was fortunate to NOT be married to personal biases of what baseball training programs should look like.
Distance running for pitchers didn't make sense to me. It was absurd to hear that players shouldn't lift because it'd make them "bulky and inflexible." The list goes on and on - but the point remains the same: good baseball strength and conditioning mandates logical thinking, not just reliance on tradition and personal biases. 
This doesn't just apply to baseball insiders' perspectives on what players should look like, though. Rather, it also must apply to how strength and conditioning coaches - baseball outsiders like me - view what players should look like. And, my decade in baseball strength and conditioning has taught me that you have to emotionally separate yourself from what an athlete "should" look like, especially when dealing with pitchers.
While you might think that every athlete - regardless of sport - needs to be 7% body fat with a 500+ pound squat and 18-inch biceps, you have to throw that perception out the window when you're dealing with baseball players (and many other athletes, for that matter). The truth is that big leaguers come in all shapes and sizes.
I've seen pitchers with 16-inch vertical jumps who throw 95mph. I've seen guys at 25% body fat win Gold Gloves and hit over .300 in the big leagues. I'm not saying that you should just "allow" your athletes to be unathletic, but rather that you need to recognize the following:
Players are often successful because of traits and not just athleticism. 
Maybe a hitter has tremendous sports vision. Maybe a pitcher was blessed with freaky congenital laxity (joint hypermobility) to contort his body into crazy positions to create better deception and get on top of hitters faster. Maybe a pitcher has really long fingers that enable him to throw a great change-up or splitter. 
The point is that natural selection definitely plays a big role in success, and it's your job to make sure your training doesn't interfere. Bartolo Colon has pitched in parts of 18 years in the big leagues and won 213 games, and he's making $10 million this year. He throws more than 85% fastballs and walk less than one batter per nine innings. 
He is also clinically obese and probably has about 50-60 pounds of body fat to lose. Conventional wisdom says that shedding that excess body weight would make him a better athlete, but as I wrote with respect to CC Sabathia, that's a very slippery slope. That extra body weight may help him with absolute power development, and he may also be so accustomed to that larger frame after all these years that his mechanics might negatively impacted if you took a lot of weight off him, especially in a short amount of time. I've actually seen this quite a bit over the years in athletes who have come our way to sort out their struggles: try to get a guy too lean, and you'll deliver a six-pack - and a poop arm to go with it. For Colon, fastball command (and velocity) is clearly more of a priority than flab (or lack thereof).
I'm not telling you that you should let your guys get fat. I'm not telling you that you shouldn't train them for strength. I'm not telling you that we should just assume that the freaks will make it and hard work won't take a non-freak to the big leagues. I'm just telling you that you need to take a step back and consider exactly what makes an athlete a) successful and b) durable. 
Guys aren't getting hurt because they only deadlift 450 and not 500 pounds. And, they aren't stuck in Triple A instead of living the big league dream because they're 10% body fat and not 9%. There are such things as strong enough, lean enough, and flexible enough. If they don't meet the minimum standards and they aren't at the level at which they hope to compete, you need to improve these qualities. If they don't meet these minimum standards, but they're already competing at the highest level, then you have to be very careful about how you tinker with things. Subtle changes are the name of the game, and extremes should be avoided. And, you should look for easy gains first.
Improving a pitcher's cuff strength is a lot quicker and easier than adding 100 pounds to his deadlift. Adding 10 degrees of hip internal rotation or thoracic rotation can make a hitter feel far more confident at the plate. Getting 10 minutes of soft tissue work on a gritty shoulder or elbow can be absolutely game-changing for a pitcher who has thrown through chronic pain.
These aren't the sexy training exercises or boast-worthy gains that make for YouTube videos that go viral, but they're the ones that can take athletes to the next level - or keep them at the highest level. I'll take a good serratus anterior over a good six-pack, even if it makes for lame Instagram content. I'll take great end-range rotator cuff strength over big arms, even if it won't make the ladies go wild.
Our athletes are still going to lift heavy weights, sprint, throw med balls, do plyos and agility drills - but it's all part of a larger plan where we appreciate them as individuals with unique needs. If you try to fit baseball players into a physical mould that you've built in your mind, you'll waste training time as you study for the wrong test. And, more importantly, you'll miss out on key performance benefits and opportunities to keep them healthy.
Sign-up Today for our FREE Baseball Newsletter and Receive Instant Access to
my 47-minute Presentation on Individualizing the Management of Overhead Athletes!
---
Written on June 18, 2015 at 11:27 am, by Eric Cressey
I've often alluded to how important I think the back to wall shoulder flexion drill is as both an assessment and actual training exercise. Today, I've got three strategies for improving your performance of this exercise:
Sign-up Today for our FREE Newsletter and receive a four-part video series on how to deadlift!
---
Written on June 12, 2015 at 7:20 am, by Eric Cressey
Earlier this week, the Major League Baseball Draft took place, and when all was said and done, 27 Cressey Sports Performance athletes had been selected. To that end, I thought it was a good time to type up this month's Random Thoughts on Sports Performance Training installment, as the draft has been what's on my mind. Point #1 is a lead-in to the points that follow.
1. I actually posted this on my Facebook page and was surprised at how many "likes" it got, so I'm sharing it here - especially since I think it'll serve as a jumping off point with respect to culture.
The biggest compliment a client can pay to CSP is when a parent trusts us to train their son/daughter during the teenage years when they're young and impressionable and need good role models to model positive behaviors.
The second biggest compliment a client can pay to us is when a professional athlete trusts us with his/her career.
The annual MLB Draft is the time of year when these two compliments coincide, and we get to see how point #1 can lead to point #2 as dreams come true. Congratulations to the 27 CSP athletes drafted over the past three days; thank you very much for having us along for the ride.
It's always awesome to see guys we've trained through their high school years transition to professional athletes. These scenarios not only provide lessons on long-term athletic development, but also the importance of creating a culture at the facility that makes training fun over the long haul.
2. I recently finished up the audiobook, Unmarketing, by Scott Stratten.
One of the key messages Stratten drills home is that customers have to like you before they can get to know you, and they have to know you before they can trust you. Obviously, in the strength and conditioning field, our athletes/clients are our customers. This "like-know-trust" is an important message, because long-term athletic development - and certainly working with professional athletes (or those trying to become pro athletes) is all about trust. They need to trust that you're giving them the appropriate programming and cues they need for success.
He goes on to discuss how many businesses put the carriage in front of the horse on this point. They don't work to build a relationship with their customers before trying to monetize them. It's like asking someone to marry you in the middle of the first date. I immediately thought about how our business model has impacted our training model.
When a new athlete comes to CSP, they're individually assessed and we have a chance to spend anywhere from 20-60 minutes getting to know them. It's not only a chance to review injury history and go through a movement evaluation, but also an opportunity to build rapport by learning about goals, training history, and common interests. It also gives us a chance to subtly demonstrate our expertise and relate a plan of attack for how we can help. In short, an initial evaluation is about learning about so much more than just whether an athlete has sufficient hip internal rotation!
Conversely, think about what happens when an athlete walks into a facility where every athlete does the same program on the dry erase board, and there isn't an assessment to kick things off. In these scenarios, the trainers/coaches really haven't done anything to get to know the athletes, and they certainly haven't gotten these athletes to "like" them. The road to building trust has gotten started with a pretty messy detour - and it'll take a long time to build things up.
3. We really go out of our way to create context for our athletes when we're coaching. In other words, our coaching cues need to build on what an athlete already knows. A front squat is easier to learn when you've already done a goblet squat, and a rotational medicine ball shotput can build upon what an athlete knows from baseball hitting. However, I don't think people ever recognize the importance of creating context for success - and I'm a big believer that it's been a huge part of the results we've gotten.
Everyone knows that for years and years, the world dreamed of having someone run a sub-4-minute mile. Then, in 1954, Roger Bannister accomplished this great feat - and thereafter, it became very commonplace. Granted, the sports media somewhat unfairly sensationalized the "quest" for the 4-minute-mile, but the message is still very much the same: once you've seen someone accomplish something that appeared very daunting, you're more likely to be able to accomplish it yourself. The 27 CSP guys drafted this year have watched over 50 guys get drafted in the three years ahead of them - and, just as importantly, they've had a chance to rub elbows with them during training. Success leaves clues - and clues help to create context for more success.
4. On the whole, at young ages (younger than 16), I think the notion of "Sports-Specific Training" is actually pretty silly. We can all agree that good movement is good movement, regardless of whether a young athlete plays soccer, football, lacrosse, or basketball. Overhead throwing athletes, though, are - at least in my opinion - a very important exception to the rule.
In all these other sports, we can adequately prepare for the most common injury mechanisms with well coached general training exercises in our strength and conditioning program. However, how many weight room exercises do you see that help an athlete build stability in this position?
If you have an athlete that goes through this kind of lay back - whether it's with baseball/softball, swimming, tennis, or any other overhead sports - you need to train them to build stability in this position.
5. In all, there were 1,215 players drafted earlier this week over the 40 rounds. That's astronomically higher than any other professional sport - and in no other sport do you more quickly go from being a big fish in small pond to being the small fish in a big pond. As of right now, only two of the 41 first round (plus supplemental round) picks in last year's draft have made it to the big leagues. Conversely, if you're a first rounder in the NFL or NBA, you're in "the show" right away pretty close to 100% of the time.
In other words, there is a lot of time for things to go wrong for draft picks while in minor league baseball. Injury rates are at all-time highs, players may get into trouble, and others might just discover that they don't have the talents necessary to compete at the highest level. Scouting baseball players is an imperfect "science" - and, sadly, 90% (or more) of these 1,215 players won't "make it."
For this reason (and many others), I heavily emphasize to our staff and athletes that our #1 job is actually to educate our minor league guys on how to be advocates for themselves and understand what is unique about how they move. If we can give them the best training and nutrition insights possible - and teach them how to practically apply them throughout a long season - they stand much better chance of making it to the big leagues. Strength and conditioning coaches may not be able to impact talent (at least not directly), but we can impact one's ability to display it consistently. In fact, this is what the wall of our assessment room looks like:
6. I've talked in the past about how all our arm care programs work proximal to distal. In other words, we focus on core control, rib positioning, and thoracic spine mobility, then move to scapular control, then to the glenohumeral (ball and socket) joint, and then down to the elbow. It's because there is somewhat of a "downstream" effect. Improving thoracic rotation can improve shoulder internal rotation. Getting an athlete out of a heavily extended core posture can get the latissimus dorsi to calm down, which takes stress off the elbow. Taking care of scapular control might even relieve nerve impingement that's causing symptoms into the hand. The possibilities for this "downstream" effect are really endless.
Conversely, though, there isn't an "upstream" effect. Nobody's thoracic spine mobility improves if you do some soft tissue work and stretching to get some elbow extension and supination back. Improving rotator cuff strength won't get rid of lower back pain.
This is why I think improving anterior core control in baseball players can be such an unbelievable game changer. We know that improving function in the sagittal plane is generally easier than improving it in the frontal or transverse planes, and the anterior core is really responsible for resisting lumbar extension.
Additionally, the core is the furthest "upstream" option to impacting function. So, if you're a believer in the concept of minimum effective dose (and I am), your goal should be to work on the easiest, most impactful stuff first. Anterior core is that option in a baseball population.
In fact, it's so important that I did an entire 47-minute presentation on the topic. If you haven't checked out Understanding and Coaching the Anterior Core yet, I'd encourage you to do so.
Congratulations again to all this year's MLB draft picks! Have a great weekend, everyone.
Sign-up Today for our FREE Newsletter and receive a four-part video series on how to deadlift!
---
Written on June 8, 2015 at 9:21 am, by Eric Cressey
It's not just any Monday, as today kicks off the 2015 MLB Draft, which is always a big event in the Cressey Sports Performance world. To that end, I thought I'd use this installment to highlight a few old posts I've made on the subject. There are some good lessons on perseverance and long-term athletic development in these articles.
6 Key Qualities for Long-Term Athletic Development - This was my 2014 post-draft feature, where I discuss key characteristics of successful players.
MLB Draft Thoughts: Talking vs. Doing - This was the 2013 post-draft feature, which highlights that actions speak louder than words.
Draft Q&A with Eric Cressey: Part 1 and Part 2 - This two-part article was actually an interview of me for Baseball America prior to last year's MLB Draft. I think it delves into a lot of important topics for up-and-coming players as well as coaches and parents.
Enjoy the draft!
Sign-up Today for our FREE Baseball Newsletter and Receive Instant Access to a 47-minute Presentation from Eric Cressey on Individualizing the Management of Overhead Athletes!
---
Written on June 1, 2015 at 6:07 am, by Eric Cressey
Happy June, everyone! Let's kick this month off on the right foot with some recommended strength and conditioning reading:
Give and Take: Why Helping Others Drives Our Success - I just finished up this best-seller from Adam Grant, a professor at The Wharton School. It was an outstanding look at some factors that characterize those who are successful in the business world, and there are definitely a lot of applications to coaching. I've already recommended it to several friends who manage training facilities.
Why Tommy John Surgeries Won't Cease Any Time Soon - This ESPN The Magazine article does a good job of addressing the social (as opposed to physiological rationale) for why arm injuries continue to be such a problem.
Are You Consuming, Producing, or Engaging? -  Todd Hamer is a good friend of mine who always has great insights on coaching, and this is no exception.
Sign-up Today for our FREE Newsletter and receive a four-part video series on how to deadlift!
---
Written on May 26, 2015 at 6:56 am, by Eric Cressey
In light of the holiday weekend, I'm a day late with this week's recommended reading, but I promise it will be worth the wait:
The International Youth Conditioning Association High School Strength and Conditioning Certification - I very proud to have co-authored this resource for the IYCA, and it's on sale through the end of the day today (Tuesday). Just enter the coupon code MDCERTSALE at checkout to get $100 off.
It Won't Kill You to Grill - With yesterday being the "unofficial start to summer," Brian St. Pierre's article for Precision Nutrition is very timely. He discusses how to grill without any concern for health risks.
Memorial Day Musings on Player Development - Cressey Sports Performance pitching coordinator, Matt Blake, shares some great stories on success in spite of adversity, and highlights the importance of long-term views on development.
Sign-up Today for our FREE Newsletter and receive a four-part video series on how to deadlift!
---